With the business potentially at an important milestone, we thought we'd take a closer look at THC Biomed Intl Ltd.'s (CSE:THC) future prospects. THC Biomed Intl Ltd. produces and sells medical and recreational cannabis in Canada. The company's loss has recently broadened since it announced a CA$162k loss in the full financial year, compared to the latest trailing-twelve-month loss of CA$4.6m, moving it further away from breakeven. The most pressing concern for investors is THC Biomed Intl's path to profitability – when will it breakeven? In this article, we will touch on the expectations for the company's growth and when analysts expect it to become profitable.
Expectations from some of the Canadian Pharmaceuticals analysts is that THC Biomed Intl is on the verge of breakeven. They anticipate the company to incur a final loss in 2021, before generating positive profits of CA$1.1b in 2022. Therefore, the company is expected to breakeven just over a year from now. What rate will the company have to grow year-on-year in order to breakeven on this date? Using a line of best fit, we calculated an average annual growth rate of 166%, which is rather optimistic! Should the business grow at a slower rate, it will become profitable at a later date than expected.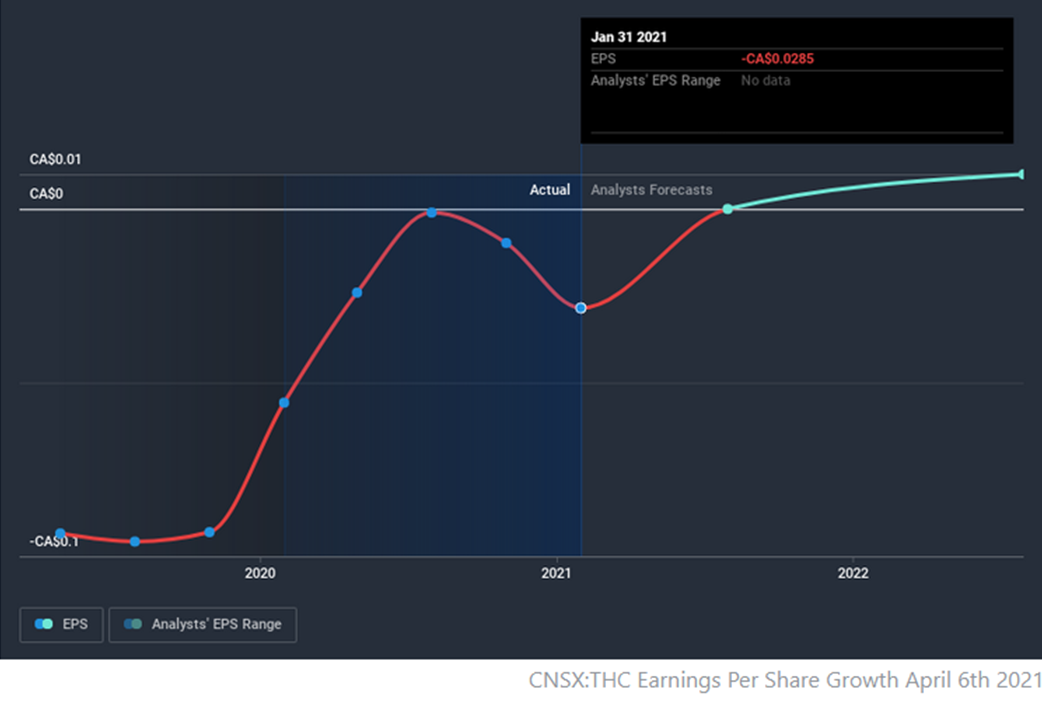 Given this is a high-level overview, we won't go into details of THC Biomed Intl's upcoming projects, however, keep in mind that by and large pharmaceuticals, depending on the stage of product development, have irregular periods of cash flow. This means that a high growth rate is not unusual, especially if the company is currently in an investment period.
One thing we'd like to point out is that The company has managed its capital judiciously, with debt making up 34% of equity. This means that it has predominantly funded its operations from equity capital, and its low debt obligation reduces the risk around investing in the loss-making company.