THC.CSE | THCBF-OTC | TFHD.F
Vancouver, Canada, April 1, 2021 — THC BioMed Intl Ltd. (CSE:THC) ("THC BioMed" or the "Company") is pleased to report its financial results for the three and six months ended January 31, 2021.
Q2 HIGHLIGHTS
On November 12, 2020, the Company completed the second tranche

of a private placement to total

$1,500,000 leaving a balance of $950,000 remaining. In the seco

nd tranche, the Company issued

3,636,363 units ("Units") at a price of $0.11 per Unit, for tot

al proceeds of $400,000. Each Unit

consists of one common share and one common share purchase warr

ant. Each Unit warrant entitles

the holder to purchase one common share of the Company for a pe

riod of 24 months from closing at

a price of $0.15 per share. Commission of 7% cash was paid and

7% broker warrants for 254,545

broker warrants were issued. The broker warrants have the same

terms as the Unit warrants. The

Company intends to close additi

onal tranches in the near-term.

Began shipment of

THC Kiss Gummies

for the recreational market in packages of 4 gummies with a

total of 10 mg of THC.

Completed the rebranding of the

Company's website, logo and pa

ckaging.

Fundamental Research Corp. initiated independent investment an

alysis coverage of the Company.
HIGHLIGHTS SUBSEQUENT TO JANUARY 31, 2021
Received a letter of authorization from the Autorités des Marc

hés Publics ("AMP"), Quebec's Public

Markets Authority providing th

e authorization as granted by AMP

pursuant to Quebec's

Act

Respecting Contracting by Public Bodies

and permits THC BioMed

to enter into contracts with

Quebec's Société québécoise du cannabis ("SQDC"). Pursuant to Q

uebec's

Cannabis Regulation

Act,

only the SQDC may purchase cannabis from a federally licensed

cannabis producer and sell it

to the public in Quebec. This authorization is just a first ste

p in possibly entering into the Quebec

cannabis market for THC BioMed.

Completed construction of three strata units, increasing edibl

e and beverage production space and

adding new facilities for baked

goods, and subm

itted the applic

ation to Health Canada requesting

clearance to commence producti

on in the newly constructed areas

Engaged a consultant to carry out

an enhancement project on th

e Company's automated cannabis

cylinder machine to improve cannabis cylinder production and ad

d automated packaging to the

process. The Company has grant

ed the consultant 500,000 stock

options to acquire 500,000

common shares of the Company with an expiry date of March 16, 2

023 at $0.165 per share. 50,000

stock options vest at the date of

grant and the balance pursuan

t to specific milestones being

attained.

Began production of strawberry

and orange flavoured gummies
MANAGEMENT COMMENT
"The loss at January 31, 2021 is significant due to factors affecting the fair value changes of the biological assets and inventory. The fair values of the biological assets and inventory were revised downward. As the market matures and the business moves to profitability, our assessment of the biological assets and inventory needed to be refined to reflect real-time values," said THC BioMedPresident andCEO, John Miller. "Going forward, we intend on concentrating on the edibles market and specifically our THC Beverage Shot and our THC Kiss Gummies which will improve our gross margin and subsequent bottom line."

For the quarter ended January 31, 2021, we produced185.5 kilograms of dried cannabis and sold 300.3 kilograms at an average net selling price of $3.00 per gram.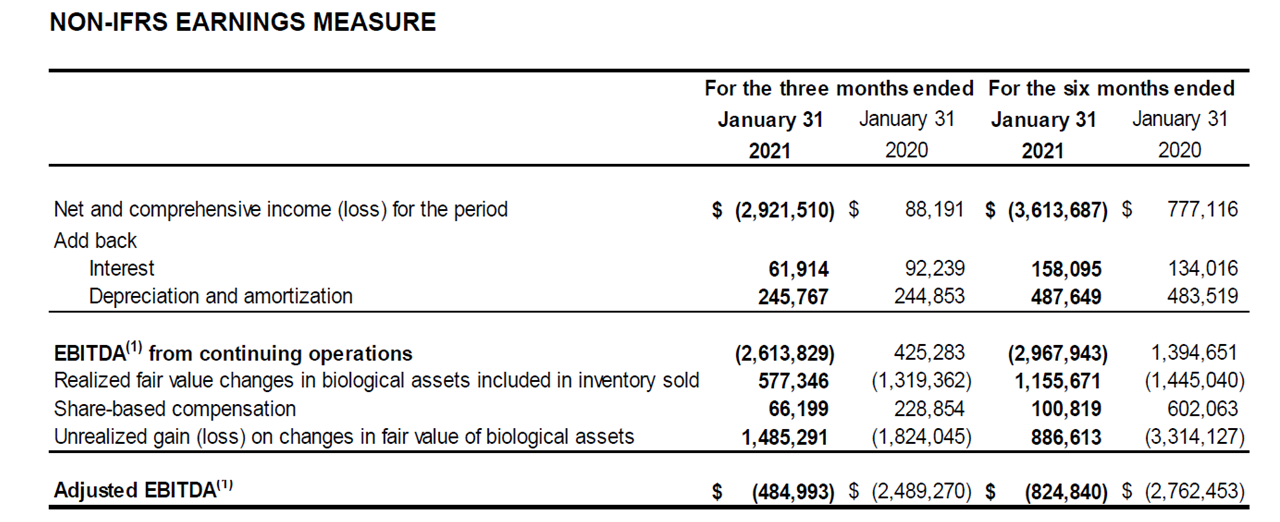 1 The Company defines Adjusted EBITDA as net income (loss) excluding fair value changes on growth of biological assets, realized fair value changes on inventory sold or impaired, amortization of property plant and equipment & intangible assets, share based payments, finance expense, loss on disposal of property plant and equipment, unrealized gains or losses on investments and income taxes. This non-IFRS measure is defined in the Company's MD&A for the six months ended January 31, 2021.
All financial information in this press release is reported in Canadian dollars, unless otherwise indicated. This press release is intended to be read in conjunction with the Company's Condensed Interim Consolidated Financial Statements and Management's Discussion & Analysis for the six months ended January 31, 2021, which has been filed on SEDAR (www.sedar.com).
ABOUT THC
THC BioMed is one of Canada's oldest active licensed cannabis companies. It was first licensed to deal with cannabis in 2013 under a Health Canada Section 56 exemption under the Controlled Drugs and Substances Act and has been a Licensed Producer under the current regime since 2016. It is a small batch producer and aims to be a leader in the beverage and edible space.
THC BioMed is a Licensed Producer of medical and recreational cannabis under the Cannabis Act. It is licensed to cultivate and sell dried, extract, edible, and topical cannabis. The Company is on the leading edge of scientific research and the development of products and services related to the cannabis industry. THC BioMed is well-positioned to be in the forefront of this rapidly growing industry.
Please visit our website for a more detailed description of our business and services available.
www.thcbiomed.com
President and CEO
John Miller
THC Biomed Intl Ltd.
T: 1-844-THCMEDS
E: info@thcbiomed.com
Forward-Looking Information
This press release may include forward-looking information within the meaning of Canadian securities legislation, concerning the business of THC BioMed Intl Ltd. ("THC"). Forward-looking information is based on certain key expectations and assumptions made by the management of THC. In some cases, you can identify forward-looking statements by the use of words such as "will," "may," "would," "expect," "intend," "plan," "seek," "anticipate," "believe," "estimate," "predict," "potential," "continue," "likely," "could" and variations of these terms and similar expressions, or the negative of these terms or similar expressions. Forward-looking statements in this press release are made as of the date of this press release and include that THC will be on the forefront of this rapidly growing industry. Although THC BioMed believes that the expectations and assumptions on which such forward-looking information is based are reasonable,
undue reliance should not be placed on the forward-looking information because THC BioMed can give no assurance that they will prove to be correct. THC disclaims any intent or obligation to update publicly any forward-looking information, whether as a result of new information, future events or results or otherwise, other than as required by applicable securities laws.
The Canadian Securities Exchange (CSE) has not reviewed and does not accept responsibility for the adequacy or the accuracy of the contents of this release.