Vancouver, Canada, June 26, 2020 — THC BioMed Intl Ltd. (CSE:THC) ("THC BioMed" or the "Company") is pleased to report its financial results for the nine months ended April 30, 2020.
CSE.THC | OTC.THCBF | F.TFHC
Q3 HIGHLIGHTS
Revenue for the quarter increased 153% compared to the same period last year
Revenue for Q3 was lower than Q1 and Q2 due to supply chain issues as a result of the general slowdown caused by COVID-19
Production began on our new cannabis beverage shot, THC Kiss, with sales to our medical marijuana patients in April, 2020.
A new three-year lease began for a property adjacent to our production facility intended for administration, storage, and other activities not related to cannabis production in order to free up space at the production facility by constructing four new grow rooms with the space once it is renovated and approval received from Health Canada.
Announced a Normal Course Issuer Bid to purchase up to an aggregate of 7,977,152 common shares of the Company representing 5% of the issued and outstanding common shares as at that date, of which 1,217,000 shares have been purchased to date for The price paid for all of the shares was $163,444 at an average price per share of $0.13.
Upon the resignation of George Smitherman from the Board of Directors, Penelope Laine was appointed to the Board. Ms. Laine is an experienced and licensed pharmacist with an MBA from the University of Toronto. She has also passed the Canadian Securities Course and the Trader Training Course. Her experience in science and healthcare, combined with her education in business and finance, is a great fit for the Company.
SUMMARY OF QUARTERLY RESULTS

For the quarter ended April 30, 2020, we produced347.3 kilograms of dried marijuana and sold 193.9 kilograms at an average selling price of $3.46 per gram reflecting overall lower selling prices in the retail market.
HIGHLIGHTS SUBSEQUENT TO APRIL 30, 2020
The Company delivered its largest single sales order subsequent to the quarter ended April 30, 2020 of just over $550,000. 
Began shipment of our cannabis beverage shot, THC Kiss, to the adult recreational cannabis market 
Filed for a U.S. trademark for the use of "THC Kiss" in the U.S. THC BioMed has used the THC Kiss trademark in Canada. It owns the common-law rights and the trademark application for "THC Kiss" in Canada.
Began production of its Pure Cannabis Sticks; however, delivery has been delayed due to supply chain issues as a result of the general slowdown caused by COVID-19.
MANAGEMENT COMMENTARY
"Sales in Q3 slowed down as a result of supply chain issues caused by COVID-19. These issues are being resolved. We delivered our largest single sales order of just over $550,000 in Q4. Although the three months ended April 30, 2020 resulted in a loss of $295,717, largely due to COVID 19 delays, the nine months ended April 30, 2020 overall were profitable, with net profits of $481,399. Our focus now is on production of our cannabis beverage shot, THC Kiss, and our Pure Cannabis Sticks," said THC BioMed President &CEO, John Miller. All financial information in this press release is reported in Canadian dollars, unless otherwise indicated. This press release is intended to be read in conjunction with the Company's Condensed Interim Consolidated Financial Statements and Management's Discussion & Analysis for the nine months ended April 30, 2020, which has been filed on SEDAR (www.sedar.com).
Statement of Comprehensive Income (Loss) Summary

Balance Sheet Summary

Cash Flow Statement Summary

Non-IFRS Earnings Measure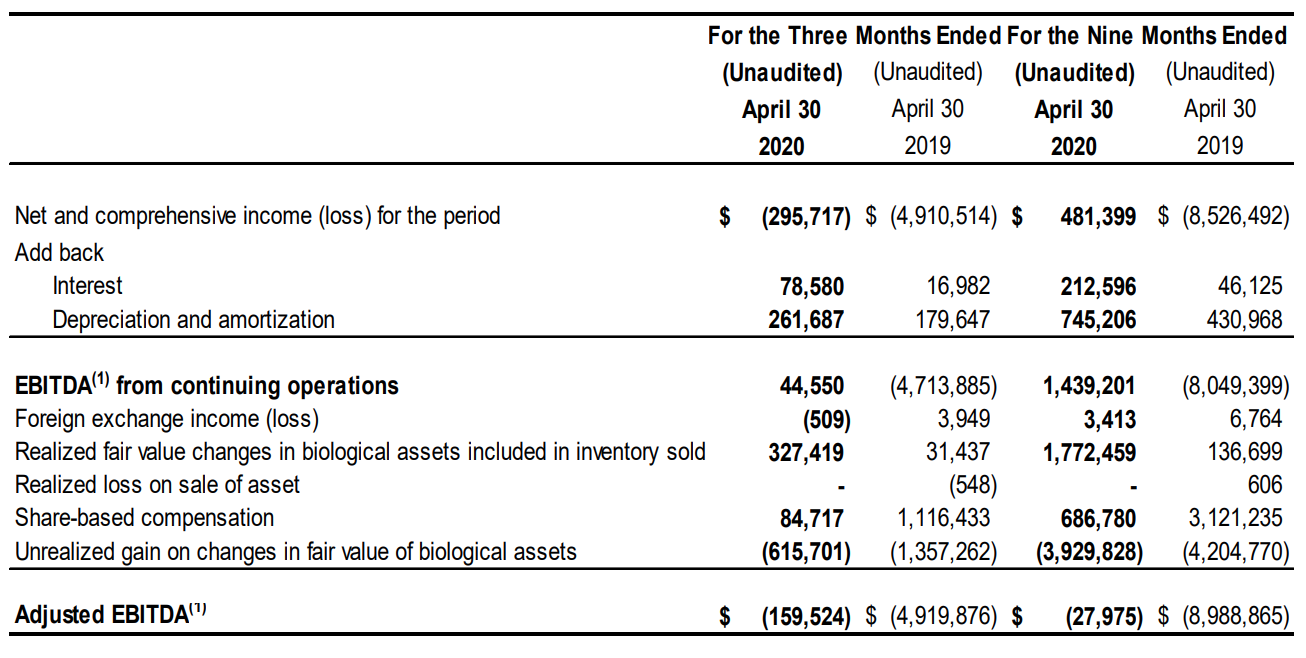 (1) These non-IFRS measures are defined in the Company's MD&A for the nine months ended April 30, 2020 ("Q3 2020")
ABOUT THC
THC BioMed is a small batch Cannabis Act Licensed Producer of medical and recreational cannabis. It is licensed to cultivate and sell dried, extract, edible and topical cannabis. THC BioMed is Canada's largest supplier of legal cannabis genetics. The Company is on the leading edge of scientific research and the development of products and services related to the cannabis industry. Management believes that THC BioMed is well-positioned to be in the forefront of this rapidly growing industry.
Please visit our website for a more detailed description of our business and services available. www.thcbiomed.com
President and CEO
John Miller
THC BioMed Intl Ltd.
T: 1-844-THCMEDS
E: info@thcbiomed.com
Forward-Looking Information:
This press release may include forward-looking information within the meaning of Canadian securities legislation, concerning the business of THC BioMed Intl Ltd. ("THC"). Forward-looking information is based on certain key expectations and assumptions made by the management of THC. In some cases, you can identify forward-looking statements by the use of words such as "will," "may," "would," "expect," "intend," "plan," "seek," "anticipate," "believe," "estimate," "predict," "potential," "continue," "likely," "could" and variations of these terms and similar expressions, or the negative of these terms or similar expressions. Forward-looking statements in this press release include that THC will (a) focus now on production of THC Kiss and Pure Cannabis Sticks and (b) be in the forefront of this rapidly growing industry. Although THC believes that the expectations and assumptions on which such forward-looking information is based are reasonable, undue reliance should not be placed on the forward-looking information because THC can give no assurance that they will prove to be correct. Forward-looking statements contained in this press release are made as of the date of this press release. THC disclaims any intent or obligation to update publicly any forward-looking information, whether as a result of new information, future events or results or otherwise, other than as required by applicable securities laws.
The Canadian Securities Exchange (CSE) has not reviewed and does not accept responsibility for the adequacy or the accuracy of the contents of this release.